The White Mask – Make A Sound was held April 11, 2020 and was a huge success raising over L$21,000 for Relay For Life of Second Life.  The music and stage were both stunning.
Here are some images from the event.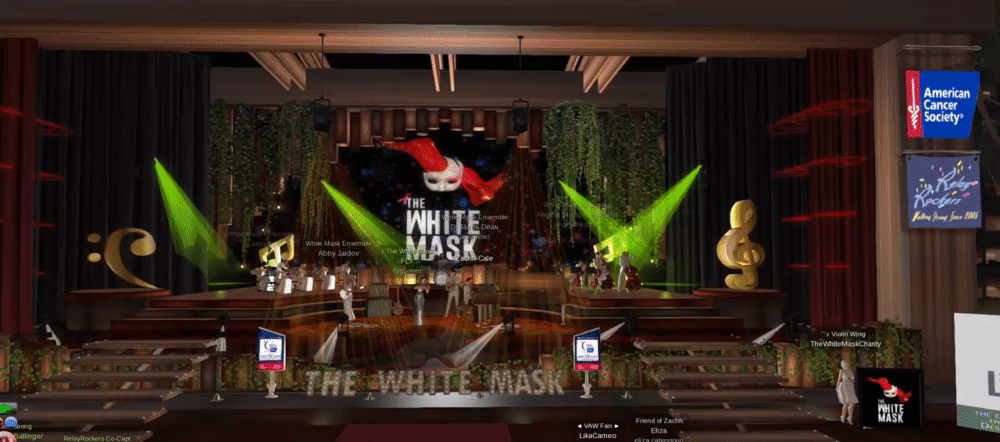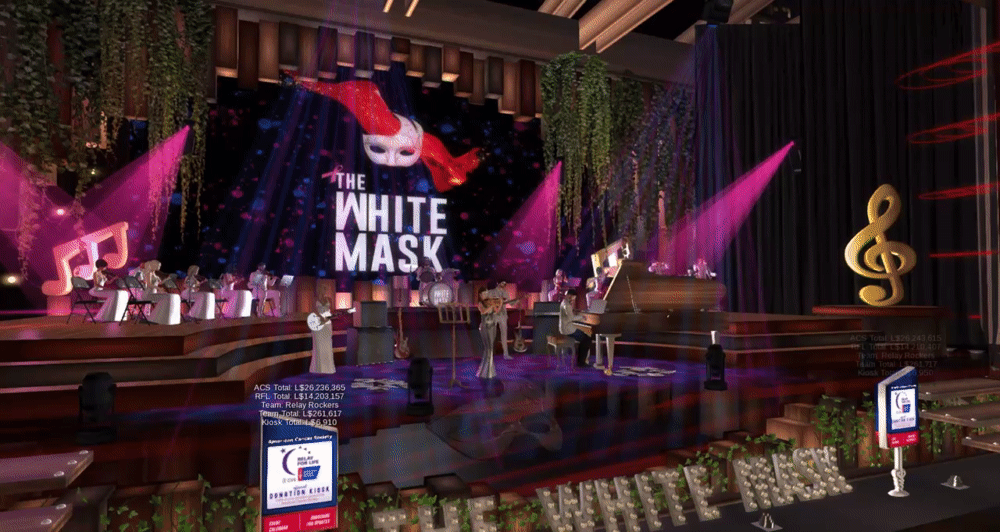 ---
The White Mask project was started in January 2020 as a vehicle for FLY to make a contribution to her fellow man. FLY feels a great burden for children, animals, those less fortunate and in need. She decided to use her talent as a professional violinist to provide a realistic concert type atmosphere to listeners in Second Life under the White Mask name and is dedicated to raising funds for various charities.
"The White Mask – MAKE A SOUND" will benefit Relay For Life of Second Life. The Relay For Life movement is American Cancer Society's signature fundraiser dedicated to helping communities attack cancer. The hope that those lost to cancer will never be forgotten, that those who face cancer will be supported, and that one day cancer will be eliminated.
Please join us for an amazing event to benefit this worthwhile charity. There will be music from Fly, a world class violinist, and Fly will dual stream with SL's great musician, pianist and singer Zachh Cale.
The event will be formal but you can come as you are. We would love to have you, your family, friends and significant others join us for a morning of music.
Fly is a musician who has been playing the violin officially in RL since 1998. She took place in jazz and rock bands performing in many special places and stages in RL. She also attended many open mic. stages in Seattle, experienced and performed American Rock, Jazz and Blues music on stage with local musicians at jams in Redmond, Kirkland, Downtown Seattle and Portland. She keeps performing live violin as taking a place in a band in her country.
Fly, as a live violin performer, is streaming into second life since June 2019. Performing improvisation & Jazz, Rock and some Pop genres from different time periods from various artists. She never has a deal to be great one, she just have fun playing here and keeps working on her events in SL.
EXPERIENCE:
* Graduated Fine Arts High School
* Bachelor Degree, School of Music, Violin
* Music Theory and Violin teacher,
* Master-Classes with Connoisseur Violinists
* 12 years performing and teaching experience.